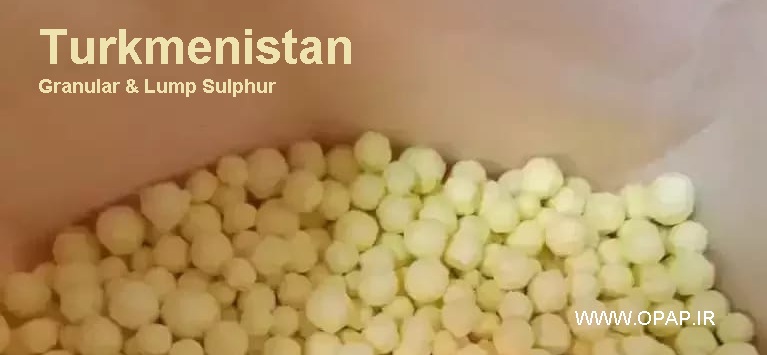 Granular Sulphur Turkmenistan




---

Brand: Turkmenistan

---

Product: Granular Sulphur Turkmenistan

---

Specification: Yellow powder, Purity 99.97%, Ash 0.02,Moisture 0.1,Acidity Max 0.001, Hydrocarbon 0.01, None soluble in water,Boiling point 445 , melting point 113, inflammable 207 centigrade degree

---

Quantity: 25000 mt

---

Delivery term: FOB BandarAbbas 

---

Offer Date: 2022-08-30 04:51:53

---

PG Platts price for  Granular Sulphur Turkmenistan is  USD/mt

---

Discount on base of PG Platts:   USD/mt

---

 Price of Granular Sulphur Turkmenistan 420 USD USD/mt

---

Set Your Order

Introduction

Granular Sulphur Turkmenistan
Yellow powder, Purity 99.97%, Ash 0.02,Moisture 0.1,Acidity Max 0.001, Hydrocarbon 0.01, None soluble in water,Boiling point 445 , melting point 113, inflammable 207 centigrade degree
Granular Sulphur used as a primary material in producing sulphur compounds, sulfuric acid, fertilizers, electric insulators, pharmaceutical products, tire production, gun powder and matches

The Price of Granular Sulphur Turkmenistan in PG Platts is /mt
The discount for this offer is /mt
The price of light Naphtha is /mt at the date of offer 
The price of light Naphtha is valid at the date of offer , for update please provide your last BL and LOI
Granular Sulphur Origin Turkmenistan

OPAP offers purchase service to importers of lump and granular sulphur from Iran,Iraq, Turkmenistan and Uzbekistan.

Price of Granular Sulphur 420 USD/MT FOB Bandar abbas port
Price of Lump Sulphur 390 USD USD/MT FOB Bandar abbas port
Price of sulphur is valid at the date of offer.
For update of price and quotation Please provide fund proof and target price in your LOI.

Sale terms for Lump and Granular Sulphur from Turkmenistan:
Specification of lump and Granular Sulphur from Turkmenistan as attached sheet
Packing of sulphur: Jumbo bags
Delivery term of sulphur: FOB Bandar abbas port Iran
Payment for lump and granular sulphur:30% cash in advance to the account of the seller and 70% against BL(Bill of Lading) copy at loading port
Payment by lc is workable with 12$ higher price.
Inspection: on buyers cost in before loading from stock depot
Delivery time: 30 days from issuing payment instrument

Procedure to buy lump or granular sulphur:
1-LOI to OPAP along with fund proof and resume and passport copy
2-Soft offer by OPAP after updating terms with the seller
3-The buyer accepts price and terms and puts commission fee in an exchange shop
4-The Proforma will be issued by the seller
5-The buyer and the seller sign contract and follow it.

Please provide LOI, Resume, Fund proof, Passport copy and authorize us as purchase consultant in order to prepare condition to buy sulphur from supplier.

Specification of Granular Sulphur Turkmenistan

Yellow powder
 Purity 99.97%
 Ash 0.02
Moisture 0.1
Acidity Max 0.001
 Hydrocarbon 0.01
 None soluble in water
Boiling point 445 
 melting point 113
 inflammable 207 centigrade degree