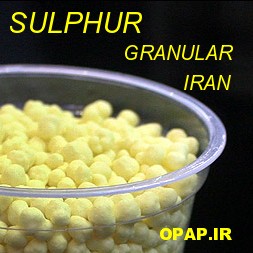 Brand: Kharg Petrochemical

---
Supply offer: Sulphur Granular kharg

---
Specification: Sulphur , Granular Sulphur,Purity 99.5%,Ash 0.05%,Moisture 0.5%,Hydrocarbons 0.05%,Acidity Max 0.02%,Bulk Density max 1240 kg/M3 , Color Bright yellow, mesh size 2-6 mm Min 90% and larger than 6mm max 10% and larger than 2 mm max 10% , commericially free from Arsenic , Selenium and Tellurium

---
Quantity: 30000 mt

---
Delivery term: FOB Kharg

---
Offer Date: 2018/12/20

---
Shipment time: 10 days

---
Validity : valid

---
Price of Sulphur Granular kharg 122 USD/mt
---
Send An Order
Introduction

Sulphur Granular kharg
Sulphur , Granular Sulphur,Purity  99.5%,Ash  0.05%,Moisture  0.5%,Hydrocarbons 0.05%,Acidity Max 0.02%,Bulk Density max  1240 kg/M3 , Color Bright yellow, mesh size 2-6 mm Min 90% and larger than 6mm max 10% and larger than 2 mm max 10% , commericially free from Arsenic , Selenium and Tellurium
Sulphur, used as a primary material in producing sulphur compounds, sulfuric acid, fertilizers, electric insulators, pharmaceuticals, tire production, gun powder and matches
Export Granular Sulphur origin Iran

OPAP as purchase consultancy supplies Granular Sulphur origin Iran for export from Iran Kharg port to all destinations in the world.

Price of granular sulphur in the date of this offer is 108 USD .
Terms and conditions of sales of granular sulphur by Lavan Refinery:

Max Quantity/Shipment 44,000 MT +/-10% @ Sellers option
Delivery Term FOB Kharg Island
Delivery Time 20 days after advance payment
Payment Terms 20% by CASH in ADVANCE 2 days after issuance of PI and 80% remained before completion of loading in USD, Euro or AED to a nominated account out of Iran.
Inspection : The Sellers inspector at loading port is SGS. Buyer can assign any Inspector other than SGS at Buyers own costs and expenses.
Vessels particular Max Acceptable DWT: Max 44,000 MT
Max Acceptable Sailing Draft: 11.2 m
Acceptable LOA: 110-200 m
Acceptable Beam: 24-28 m
The nominated vessel shall be confirmed by Seller
Notes: (A)
Guaranteed Loading Rate : 5000 MT/ day for Single decker bulk carrier: 4000 MT/ day for Twin decker bulk carrier. 
Sulphur is produced by Kharg Petrochemical company in Iran and sold via  Iran Mercantile Exchange (http://www.ime.co.ir)and payment is in cash to introduced account out of Iran in one of USD , EURO or AED currencies.

OPAP according to purchase consulting contract will obtain allocation for granular sulphur with the name of the buyer and buyer will pay directly to the refinery account as mentioned above.
The buyer of granular sulphur need to obtain tax code from Iran tax organization for registration as buyer.
Khark petrochemical complex has 2 exclusive jetties export of its products for loading granular sulphur.
The jetties are located on the southeastern corner of the island and consist of a loading platform and 8 dolphins. It is linked to the coast via an access bridge and are capable of loading vessels 5000 to 45000 tons dwt.
Khark petrochemical has ISO 9001, ISO 14001, ISO 18001 and I.M.S certificated standards certified by the German Co., TUV NORT.
Issue your request for granular sulphur origin Iran along with your resume in order.
Specification of Sulphur Granular kharg
Specification of Sulphur Granular kharg :
Sulphur
Granular Sulphur
Purity 99.5%
Ash 0.05%
Moisture 0.5%
Hydrocarbons 0.05%
Acidity Max 0.02%
Bulk Density max 1240 kg/M3
Color Bright yellow
mesh size 2-6 mm Min 90% and larger than 6mm max 10% and larger than 2 mm max 10%
commericially free from Arsenic
Selenium and Tellurium
Recently Offered

Iran
Dolomite
100000 mt
FOB BandarAbbas
Price of Dolomite 13 USD/mt
Introduction

Pasargad oil co.
Cutback MC250 MC30
2000 mt
Exwork Factory
Price of Cutback MC250 MC30 on demand/mt