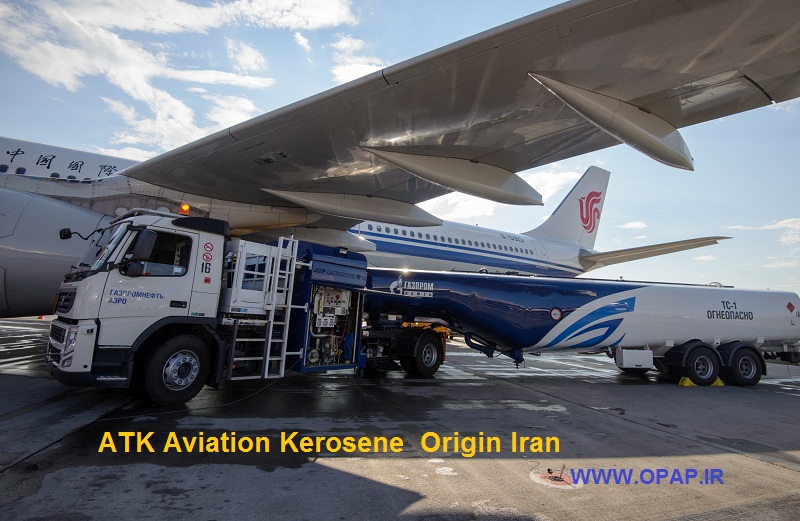 Brand: NIOPDC

---
Supply offer: Aviation Kerosene ATK

---
Specification: ATK or as said JET A-1, Avialtion turbin kerosene, Color brigth and clear, Density 775-840, Flash point 38, Freezing point minus 47, Smook poiny 25,Specific energy 42.8, Acidity 0.015, Aramatic 25, Sulphur 0.3, Electical conductivity 50-600,Lubricity 0.85

---
Quantity: 3000 mt

---
Delivery term: Exwork Arak

---
Offer Date: 2019/06/21

---
Shipment time: 10 days

---
Validity : Suppliable

---
Price of Aviation Kerosene ATK 616 USD/mt
---
Send An Order
Introduction

Aviation Kerosene ATK
ATK or as said JET A-1, Avialtion turbin kerosene, Color brigth and clear, Density 775-840, Flash point 38, Freezing point minus 47, Smook poiny 25,Specific energy 42.8, Acidity 0.015, Aramatic 25, Sulphur 0.3, Electical conductivity 50-600,Lubricity 0.85
Aviation Kerosene ATK or JET A-1 used in turbin motors as aviation fuel in passanger planes and in some war planes
Aviation Kerosene ATK origin Iran
Aviation Kerosene JET A-1 origin Iran
Aviation kerosene ATK for Afghanistan, Iraq, Armenia , Georgia

OPAP offers purchase service to importers and buyers of aviation kerosene JET A-1 or ATK from Iran.

Price of ATK aviation kerosene is valid at the date of offer.
Price of ATK aviation kerosene differs for each destination.
Price of ATK aviation kerosene for export is 616 USD/MT Exwork

Terms of offer to sell JET A-1 by NIOPDC on Iran Energy Exchange:
Product: ATK aviation kerosene or JET A-1 
Specification of JET A-1 aviation kerosene (ATK) as attached sheet
JET A-1 aviation kerosene (ATK) for this offer is only for land transportation.
Payment: The buyer pays 103% of the value of aviation kerosene in advance to the sellers account out of Iran and in EURO or AED currencies or in Iran in IRR ,for later case the buyer will guarantee to return foreign currencies to Iran.
Performance bond Guarantee: The buyer pays 10% of the value of proforma in advance to the seller account in IRR currency in Iran as performance bond Guarantee.
The buyer pays all loading cost at warehouse.
Export declaration take place by NIOPDC but official costs for clearing is on behalf of the buyer.
The buyer need to ship all quantity as agreed in pro-forma otherwise will be penalized for remaining quantity.
Exportation of aviation fuel allowed only for one destination and from one  customs and later the buyer can not change none of them.
In case the buyer fails to ship the product and cancel the contract all of the performance bond will be withdraw as as damage.
The buyer need to follow safety instructions as defined by the seller under HSE rules.

In order to authorize us as purchase consultant please provide following documents:
1- Papers for establishing of the company certified by embassy of Iran
2- Fund proof addressed to NIOPDC
3- LOI addressed to NIOPDC
4- Passport copy
5- Resume showing you are able to handle the deal - a BL from your last deals preferred 
6- Authorization letter for us confirming A:deal terms and price as offered by the seller B:you are ready to deposit commission fee in an exchange shop

About Aviation Kerosene ATK or JET A-1 :
This aviation fuel posses standard of DERO 2494 and in range of vaporizing act like kerosene for home usage.
This fuel by appropriate additives and special process refined for use as aviation fuel.High flammability at 40 Celsius degree makes this aviation fuel suitable for all kind of turbine engines in passenger planes and some war planes.
Specification of Aviation Kerosene ATK
Specification of Aviation Kerosene ATK :
ATK or as said JET A-1
Avialtion turbin kerosene
Color brigth and clear
Density 775-840
Flash point 38
Freezing point minus 47
Smook poiny 25
Specific energy 42.8
Acidity 0.015
Aramatic 25
Sulphur 0.3
Electical conductivity 50-600
Lubricity 0.85
Recently Offered

Iran
Magnetite Iron Concentrate
40000 mt
Exwork Factory
Price of Magnetite Iron Concentrate 3300000 IRR/mt
Introduction

Rental Jack Up Rig
1 unit
CIF Iran
Price of Rental Jack Up Rig TBA/unit