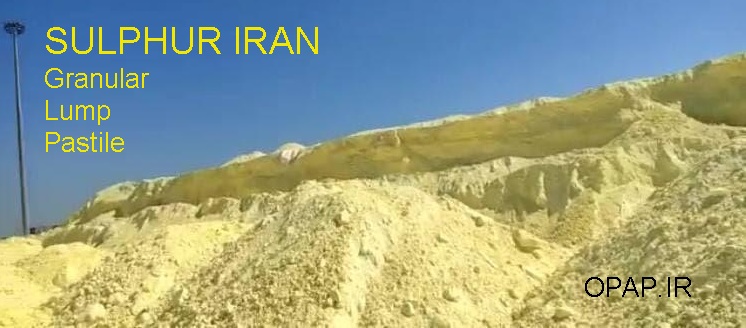 Brand: Iran

---
Supply offer: Sulfur Iran

---
Specification: Lump Sulphur,Granular sulphur, Pastile sulphur, origin Iran, Purity 99.8%, Ash 200,Moisture 850,Acidity Max 50 ppm

---
Quantity: 5000mt mt

---
Delivery term: Exwork factories

---
Offer Date: 2022-04-27 11:00:55

---
Shipment time: 10 days

---
Validity : Suppliable

---
Price of Sulfur Iran 375 USD/mt
---
Set Your Order
Introduction

Sulfur Iran
Lump Sulphur,Granular sulphur, Pastile sulphur, origin Iran, Purity 99.8%, Ash 200,Moisture 850,Acidity Max 50 ppm
Lump Sulphur used as a primary material in producing sulphur compounds, sulfuric acid, fertilizers, electric insulators, pharmaceuticals, tire production, gun powder and matches
Lump Sulphur Iran 
Granular Sulphur Iran
Pastile sulphur Iran

The price of sulphurs are valid at the date of offer.

Price of Granular sulphur 375USD/MT Exwork Isfahan with advance payment to Refinery out of Iran

For payment by LC we can accept orders with bellow prices:
Price of Pastile Sulphur  530USD/MT FOB Bandar Abbas port Iran
Price of Granular Sulphur 460USD/MT FOB Bandar Abbas port Iran
Price of Lump Sulphur 450USD/MT FOB Bandar Abbas port Iran

Option A: Payment by LC and none Iranian documents:
1-Seller is a trading company 
2-Payment: By at sight LC out of Iran against shipping documents at loading port
3-Packing: bulk
4-Delivery Term: FOB BandarAbbas port with none Iranian documents
     Delivery at destination is acceptable with mutual agreement
5-Price of Granular sulphur: as above list 

Option B: Deal with NIGC with advance payment and exwork:

Sale terms to buy sulphur from refineries
Payment for lump and granular sulphur:105% cash in advance to the account of refinery in IRR or 

Declaration for export of lump sulphur will be with the name of the buyer.
Shipment of sulphur from factory only allowed by truck and loader will be supplied by the buyer
 Delay in introducing forwarder will result on additional cost of storage in warehouse.
 10900 IRR/mt will be charged for weighing cost.
 9% as value added cost will be charged for domestic buyers.
 The value of proforma invoice will be paid to the account of refinery in Iran.

The foreign buyers need to have a financial agent in Iran in order to do officials and apply for payment in Iran.

Proedure to buy lump or granular sulphur:
1-LOI to OPAP along with fund proof and resume and passport copy
2-Soft offer by OPAP
3-The buyer accepts price and terms and puts commission fee in an excnage shop
4-The Proforma will be issued with the name of buyer

For hiring us as purchase consultancy of sulphur please provide papers of your company along with resume and fund proof and LOI for NIGC and authorizing us as your purchase consultant.

OPAP offers purchase service to importers of granular and lump sulphur from Iran.
Specification of Sulfur Iran
Specification of Sulfur Iran :
Lump Sulphur
Granular sulphur
Pastile sulphur
origin Iran
Purity 99.8%
Ash 200
Moisture 850
Acidity Max 50 ppm
Recently Offered

NIOC

Heavy End Iran
165000 BBL
FOB Asaluyeh
Price of Heavy End Iran -6.5 USD/BBL
Introduction

Tabriz
LPG Tabriz Yerevan
2000 Mt
Exwork Tabriz
Price of LPG Tabriz Yerevan 379 USD/Mt