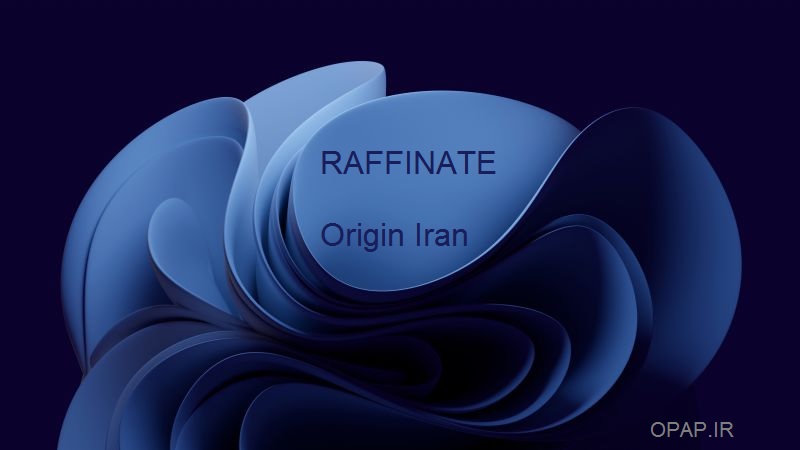 Raffinate




---

Brand: Nori 

---

Product: Raffinate

---

Specification: Density 	700	, IBP	49	, Distilation 10%>50%>90%	59>74>94	, FBP	125	, Total Recovery		, Parraffins	92	, Olifines	5	, Residue	2	, Naphthenics	2	, Aromatics	7	, Vapor Pressure 	9.5, Sulphur	5, Octan Number (Research)	75, Color 	15	

---

Quantity: 20000 mt

---

Delivery term: FOB Assaluyeh

---

Offer Date: 2022-11-06 10:48:36

---

PG Platts price for  Raffinate is 636.72 USD/mt

---

Discount on base of PG Platts:  -65 USD/mt

---

 Price of Raffinate 571.72 USD/mt

---

Set Your Order

Introduction

Raffinate
Density 	700	, IBP	49	, Distilation 10%>50%>90%	59>74>94	, FBP	125	, Total Recovery		, Parraffins	92	, Olifines	5	, Residue	2	, Naphthenics	2	, Aromatics	7	, Vapor Pressure 	9.5, Sulphur	5, Octan Number (Research)	75, Color 	15	
raffinate used from producing other oil products as an ingrediant or additives

The Price of Raffinate in PG Platts is /mt
The discount for this offer is -65/mt
The price of light Naphtha is /mt at the date of offer 
The price of light Naphtha is valid at the date of offer , for update please provide your last BL and LOI
Raffinate origin Iran
Price for of Raffinate is as quoted above with FOB term Iran ports.
for Update of price there is need to business card and last BL of the buyer. 

Deal terms:
Product: Raffinate
Origin: Iran
Specification of Raffinate: as attached sheet
Packing: Bulk
Quantity:20000mt 
Delivery term: FOB Assaluyeh Iran
Delivery term with CFR term is possible on mutual agreement with the seller 
Price: Price of Naphtha in PG Platts minus above quoted discount with term FOB Iran ports
Payment: 110% of the value of PI in advance to refinery account out of Iran in two steps ,10% against PI and 90% before loading
Currency for payment : AED or if seller make agreement in Euro 
Shipment time: less than 10 days

Procedure:
1.	The buyer presents last BL and BCL and LOI and passport copy and business card of CEO 
2.	The Purchas consultant updates price and capacity 
3.	They buyer signs commission contract and puts commission in an exchange shop in Tehran
4.	The seller issues PI and the buyer follows instruction by refinery

What is Raffinate: 
From Wikipedia:
In chemical separation terminology, the raffinate (from French raffiner, to refine) is a product which has had a component or components removed. The product having the removed materials is referred to as the extract. For example, in solvent extraction, the raffinate is the liquid stream which remains after solutes from the original liquid are removed through contact with an immiscible liquid. In metallurgy, raffinating refers to a process in which impurities are removed from liquid material

One Example of Raffinate extracts:
Raffinate-1 or C4R1
In naphtha cracking process, C4R1 refers to C4 residual obtained after separation of 1,3-butadiene from C4 raffinate stream and which, mainly consists of isobutylene 40~50 wt% and cis- or trans-2-butene 30~35 wt%. Normally C4R1 is a side product in 1,3-butadiene plant and feed to tert-butyl alcohol plant. 
Specification of Raffinate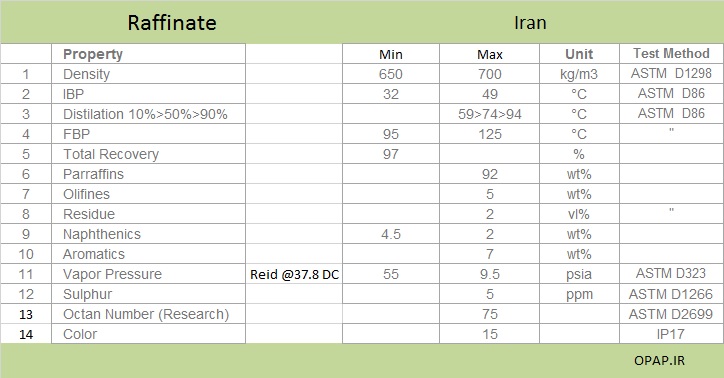 Density 	700	
 IBP	49	
 Distilation 10%>50%>90%	59>74>94	
 FBP	125	
 Total Recovery		
 Parraffins	92	
 Olifines	5	
 Residue	2	
 Naphthenics	2	
 Aromatics	7	
 Vapor Pressure 	9.5
 Sulphur	5
 Octan Number (Research)	75
 Color 	15