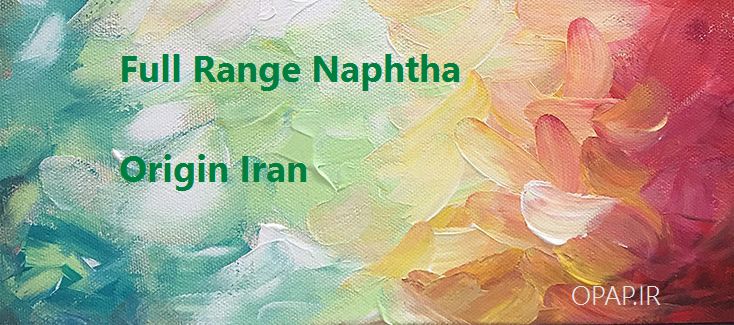 Naphtha Full Range 




---

Brand: Iran

---

Product: Naphtha Full Range 

---

Specification: Refinary Setareh	, Density 	716.4	, Specific Gravity @15°C	716.6	, IBP	37	, Distilation 10%>50%>90%	65>99>151	, FBP	183	, Octan Number (Research)	52	, RVP @37.8 °C	45	, Sulphur Total	11.66	, Mercaptan Sulphur	5.1	, benzene	1.66	, Parraffins	69.99	, Naphthenics	19.44	, Aromatics	9.17	,

---

Quantity: 32000 mt

---

Delivery term: FOB Iran

---

Offer Date: 2023-07-01

---

PG Platts price for  Naphtha Full Range  is 453.67 USD/mt

---

Discount on base of PG Platts: 55 USD/mt

---

 Price of Naphtha Full Range  398.67 USD/mt

---

Set Your Order

Introduction

Naphtha Full Range 
Refinary Setareh	, Density 	716.4	, Specific Gravity @15°C	716.6	, IBP	37	, Distilation 10%>50%>90%	65>99>151	, FBP	183	, Octan Number (Research)	52	, RVP @37.8 °C	45	, Sulphur Total	11.66	, Mercaptan Sulphur	5.1	, benzene	1.66	, Parraffins	69.99	, Naphthenics	19.44	, Aromatics	9.17	,
Naphtha used as refineries feed for producing light Naphtha , gas oil , Gasoline, kerosene


For update of price and capacity please provide your last BL and business card along with LOI
Full Range Naphtha 
The Price and discount for Full Range Naphtha in PG Platts is as offered above

The price of Full Range Naphtha is valid at the date of offer. for any update on price and allocation there is need to resume and fund proof from buyer.

OPAP Purchase consulting supplies Heavy and light naphtha with bellow terms and procedure:

Main Terms and conditions to buy Naphtha from NIOPDC:

1- Product : Full Range Naphtha
2- Origin Iran
3- Specification of Full Range Naphtha as attached sheet  
4- Packing: Bulk shipment in bulk tanker vessels
5- Delivery term : FOB Iran ports
6- Price of Full Range Naphtha : Persian Gulf Platts (Dubai Platts) minus quoted discount with term FOB Iran ports
   Price of Naphtha in PG Platts is as quoted above
7- Payment for Full Range Naphtha: 110% of the value of each shipment in advance to the account of the refinery out of Iran 
   10% against proforma invoice and 100% before loading
8- Performance bond guarantee: 10% of payment will be used as PBG in case the buyer fails to make shipment in due dates
9- Quantity of Full Range Naphtha: 35000MT minimum

Documents need for Registration with refinery :
1- LOI to NIOPDC or refinery 
2- Papers of establishing of the company showing right for signature
3- Resume showing past deals on oil products like last BLs
4- Fund proof from a prime bank
5- Passport copy

Procedure of buying Naphtha:
1- LOI for OPAP as consulting company confirming deal terms 
2- Providing all documents requested above
3- Applying for buying obligation and putting commission in an exchange shop
4- Issuing proforma for first shipment
6- Advance payment to the seller`s account 

Please issue your LOI +Resume to OPAP confirming all terms and procedure.
Specification of Naphtha Full Range

Refinary Setareh	
 Density 	716.4	
 Specific Gravity @15°C	716.6	
 IBP	37	
 Distilation 10%>50%>90%	65>99>151	
 FBP	183	
 Octan Number (Research)	52	
 RVP @37.8 °C	45	
 Sulphur Total	11.66	
 Mercaptan Sulphur	5.1	
 benzene	1.66	
 Parraffins	69.99	
 Naphthenics	19.44	
 Aromatics	9.17